British Israelism has for the last 2,000 years been an unavoidable truth that is becoming more and more plain for all to see. Over the last 200 years British Israelism has sparked so much interest that thousands of books were authored on this topic. Over the last 10-20 years in any major city you could watch the public TV broadcasts where this doctrinal belief was showcased. Numerous such TV broadcasts (watched by millions) have been ongoing over the last 50+ years. Numerous of these TV programs remain household names, reaching every area. Whether you saw it on Murray's Shepherd's Chapel, Armstrong's WWCOG (now UCG), Jenning's Truth In History, Peter's Scriptures for America, Dr Gene Scott, America's Promise, Heirs of the Kingdom syndicate, British Israel World Federation, Church of Israel, or yet other televangelists you will learn God's church is always called Israel in the Bible.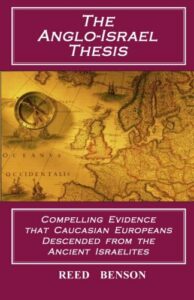 Available for $11.99 on amazon.com
We at St. Andrew's OCC would like to recommend a great book demonstrating the Anglo Israel message to people who are new but interested in the topic. The Bible is a book of covenants and refers to the people of the book as it says "for their flesh Christ came… and to the Israelites pertain the adoption, covenants, giving of the law, promises etc…" (Romans 9:4-5) By knowing who Israel is, you prove God is real and has been true to His word. Also you may better know how God deals with the world, and how He trains His people who were given His laws exclusively, like "no other nation"(many verses). "My people perish for lack of knowledge" (Hos 4:6). "If ye continue in My word, ye shall know the truth and the truth shall set you free".(Joh 8:31-32)
From the Author, Reed Benson, M.A.:
If you are of Caucasian-European background, a magnificent bequest awaits you. It is a little known fact that Anglo-Saxon and related people of central and northwest Europe are direct genetic descendants of the ancient Israelites. Although this is not a new idea, it has been largely forgotten. This book presents powerful evidence from historical documentation, archaeology, linguistic analysis, as well as internal biblical evidence from both the Old and New Testament. The implications of this thesis will alter the way you view yourself, the Bible, and the world we live in. Anyone with an open mind will find the factual data irrefutable.
Read on. We have numerous other books freely available on this British Israel topic.
Books on British Israelism should be part of every Bible Believing Christian's home library.