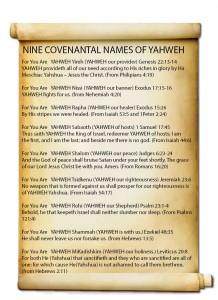 These are many covenant name promises of YAHWEH our God. 
The first commandment is to love Him with all our heart. We should study Him and know Him more. We should speak about Him and praise His name. Reciting His word is the best way. These aspects describe who He is, and what better way to appreciate, love and praise Him!
Download sheet from our Orthodox Culdee Order of Service.
 "Whosoever shall call upon the name of YAHWEH shall be saved" (Joe 2:32, Act 2:21, Rom 10:13)
"The name of YAHWEH is a strong tower: the righteous runneth into it, and is safe." (Pro 18:10)
"I will offer to thee the sacrifice of thanksgiving, and will call upon the name of YAHWEH." (Psa 116:17)
"I will praise YAHWEH according to his righteousness: and will sing praise to the name of YAHWEH most high." (Psa 7:17)
"I will declare thy name unto my brethren: in the midst of the congregation will I praise thee." (Psa 22:22)
"In God we boast all the day long, and praise thy name for ever. Selah." (Psa 44:8)
Simply INSERT These Covenant Names of YAHWEH at whatever points you want in your prayer:
COVENANTAL PRAYER NAMES OF YAHWEH
For You Are  YAHWEH Yireh (YAHWEH our provider) Genesis 22:13-14
YAHWEH provideth all of our need according to His riches in glory by Ha Meschiac Yahshua – Jesus the Christ. (From Philipians 4:19)
For You Are  YAHWEH Nissi (our banner) Exodus 17:15-16
YAHWEH fights for us. (from Nehemiah 4:20)
For You Are  YAHWEH Rapha (our healer) Exodus 15:26
By His stripes we were healed. (From Isaiah 53:5 and 1Peter 2:24)
For You Are  YAHWEH Sabaoth (of hosts) 1 Samuel 17:45
Thus saith YAHWEH the King of Israel, redeemer YAHWEH of hosts; I am the first, and I am the last; and beside me there is no god. (From Isaiah 44:6)
For You Are  YAHWEH Shalom (our peace) Judges 6:23-24
And the God of peace shall bruise Satan under your feet shortly. The grace of our Lord Jesus Christ be with you. Amen. (From Romans 16:20)
For You Are  YAHWEH Tsidkenu (our righteousness) Jeremiah 23:6
No weapon that is formed against us shall prosper for our righteousness is of YAHWEH Yahshua. (From Isaiah 54:17)
For You Are   YAHWEH Rohi our Shepherd) Psalm 23:1-4
Behold, he that keepeth Israel shall neither slumber nor sleep. (From Psalms 121:4)
For You Are  YAHWEH Shammah (YAH is with us.) Ezekiel 48:35
He shall never leave us nor forsake us. (from Hebrews 13:5)
For You Are  YAHWEH MiKadishkim (our holiness.) Leviticus 20:8
For both He (Yahshua) that sanctifieth and they who are sanctified are all of one: for which cause He(Yahshua) is not ashamed to call them brethren, (from Hebrews 2:11)
For You Are  YAHWEH Eloheynu Echad (Our Elohim is one) Deuteronomy 6:4 and Mark 12:29
YAHWEH shall be king over all the earth: in that day shall there be one YAHWEH, and His name one. (From Zechariah 14:9)
For You Are  YAHWEH Elohi Avotenu (Elohim of our fathers) Deuteronomy 26:7
Blessed be YAHWEH God of our fathers, which hath put such a thing as this in the king's heart, to beautify the house of the LORD which is in Jerusalem: (From Ezra 7:27)
For You Are  YAH YAHWEH oz zimrat haya ani Yeshua (YAH YAHWEH our strength, song and Salvation) Isaiah 12:2
YAH is my strength and song, and He is become my salvation: He is my God, and I will prepare Him an habitation; my father's God, and I will exalt Him. (Exodus 15:2, Psalm 118:14)