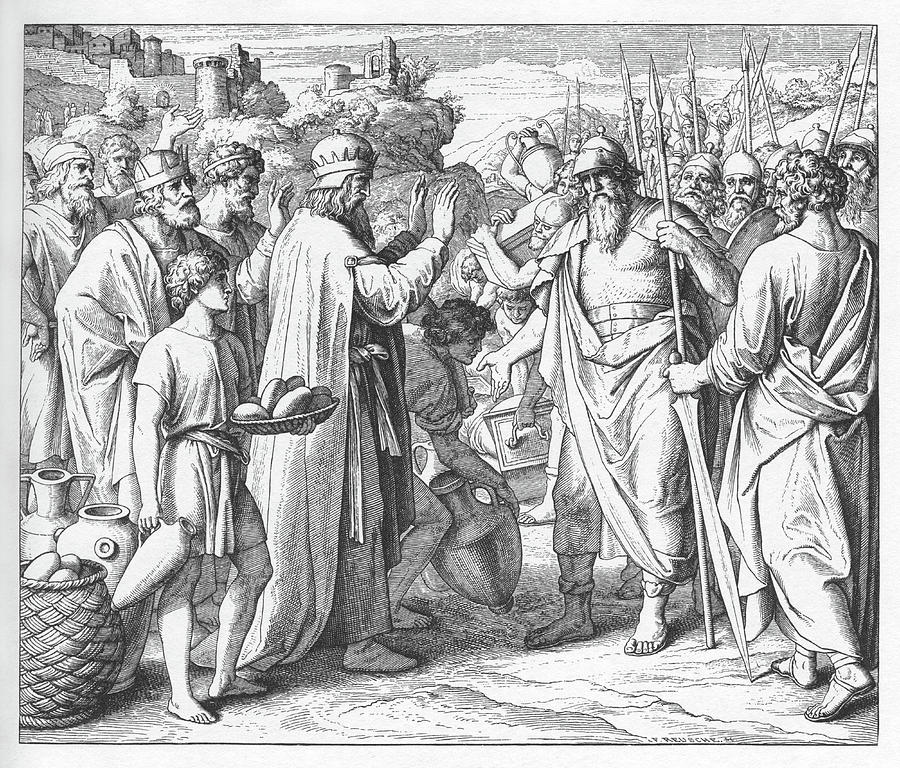 There were so many great Nationalistic (tribal advancement) blessings YAHWEH bestowed upon Abraham to be a great Nation to bless the whole world, and through them they be blessed. 10 lost tribes got the majority of those blessings in the House of Joseph which are the branch who got the name Israel and 99% moved "NorthWest" to be a multitude of mighty nations, and Posses the corners of the earth. (House of Judah to always be separate from the House of Israel, even after the new heavens and new earth and Kingdom Israel being made overlords of the whole earth with Christ as our absolute King of kings). Here are several verses saying "in Abraham's seed/(physical descendants "seed according to the flesh" Rom 9:5 / true Israel) shall all nations of the earth be blessed": Gen 18:18, 22:18, 26:4, Psa 72:17, Mal 3:12, Gal 38.
God gave Abraham some down payments of those blessings in his lifetime. One of the greatest fruits of these blessings came in battle. So Abraham came and gave thanks to YAHWEH for these blessings that materialized in his great victory in a most dangerous battle and in the highly enriching spoils of war.
So our ancestor Abraham first gave YAHWEH the credit, and gave to Him the tithe of the spoils. The mode of worship with the Most High's Priest was evident in the blessing, which includes a praise of God for God Being Blessed in His actions, as Melchizedek declared in Genesis 14:19-20.
Gen 14:18-20 KJV "And Melchizedek king of Salem brought forth bread and wine: and he [was] the priest of the most high God. 19 And he blessed him, and said, Blessed [be] Abram of the most high God, possessor of heaven and earth: 20 And blessed be the most high God, which hath delivered thine enemies into thy hand. And he gave him tithes of all."
(So we see the act of recognizing God in this victory gave Abraham this great blessing of Melchizedek. He had already been invested with numerous blessings from the mouth of YAHWEH, and now he got to hear one from His Most High Priest. The covenant however is written down as from the mouth of YAHWEH that the blessings would be that His descendants would bring God's word, His light, and His order to the fallen chaos in the world and as the word Hebrew (from his forefather Heber means "colonize") He would also conquer, occupy for God's glory (as all glory / most glorious victory etc belongs only to His descendants see Rom 9:4-5). and so they would "possess the corners of the earth etc" and greatly colonize the planet under the Creator Himself (now through His son Jesus the Christ, seeing every prophecy fulfilled) as we now see South Africa was prospered under us in Christ, as well as possess the corners of the earth (what can be a bigger corner of the earth than for example Australia, or the Caucasian occupied South America (Brazil/Chile Argentina etc all known to be occupied by the colonizers of Europe, France, Italy, Spain etc). Heck even the East Coast of Asia on any map still shows it is 90% Russian land).
So in advancement of God's government on earth, he defeated one of the largest armies the world had seen, (depicted well in Johnson's Scriptural Novel "Abraham Father of Many Nations"
https://amzn.to/3xt9j1n
) Abraham came to tithe the spoils to Melchizedek the Priest of the Most High and King of Salem.
Melchizedek was most known at the land, having refused Emperors who wanted to prop him up as his fame was everywhere as being the true priest of the Most High God. He ministered at the territory later known as Jerusalem, as minister of an order of YAHWEH that would endure "for ever", who offered the right offerings (bread and wine) continually.
Here's an artwork of the Scripture where Melchizedek laid one of the strongest blessings a man can place upon another man on earth. The blessing which was a Praise offering to YAHWEH praising the covenants of YAHWEH and the reality of thanks/praising Him for His being.
Melchizedek offered Praise of YAHWEH, bringing forth bread and wine (ancient Eucharistic / Praise blessing God for what He has done and has given for His work in the earth, advancing God's own blessing into action).
Melchizedek the King of Salem, according to the KJV 1611 (it's Apocryphal books etc) was ministering to YAHWEH (priest of the Most High) at Golgotha celebrating the thanks(Eucharist of praise) a continual memorial of Christ's coming Sacrifice at the place where Christ one day would become the Lamb offering (the Lamb victorious who is eternally before the throne).
Here's a great artwork you may wish to use as a reminder of Christ's enduring order in the earth, to display in your home prayer closet or other area for reflections and meditations. Part of this would be to declare and confess the blessings of our covenant God, and praising Him
https://fineartamerica.com/featured/abraham-is-blessed-by-melchizedek-genesis-julius-schnoor-von-carolsfeld.html
Galatians 3:13-16 tells us the blessing of Abraham (Nationalist victory everywhere) come upon us through the Sacrifice (body and blood) of Christ.
There were several blessings, many were unconditional just coming to Abraham's own house to become as a mighty Nation. The blessings were always two-fold: Protective and Prosperity
Protective Blessing of Abraham:
Now the LORD had said to Abram (Abraham): "Get out of your country, from your kindred and from your father's house, to a land that I will show you. I will make you a great nation; I will bless you and make your name great; and you shall be a blessing. I will bless those who bless you, and I will curse him who curses you; and in you all the families of the earth shall be blessed.

(Gen. 12:1-3)
After these things the word of the LORD came to Abram in a vision, saying, "Do not be afraid, Abram. I am your shield, your exceedingly great reward" (Gen. 15:1). Prosperity/Financial Blessing of Abraham
Now Abraham was old, well advanced in age; and the LORD had blessed Abraham in all things…. "The LORD has blessed my master greatly, and he has become great; and He has given him flocks and herds, silver and gold, male and female servants, and camels and donkeys."

(Gen. 24:1,35)
Not only these but the later glorifications of these blessings some consider the blessings of Abraham (as Romans 9 tells us the seed of the promise of Abraham get the blessings, but not all are the seed, only those who are descendants of "Isaac, for in Isaac shall thy seed be called" fulfilled in the Anglo-Saxon and Kindred Nations' dominant family names). So then many would say you can count the Deuteronomy 28 blessings for obedience as your right of Abrahamic blessing through Christ's blood as wider blessings which you can declare for your victory of your house. So you may also wish to declare the blessings of obedience of Abraham's seed (which Christ won for you, imputing righteousness into our spirit although we were unworthy sinners, having received Him by faith, now we can stand and go forward, but if we fall we must confess our sins). This belongs to all those who declare faith in Jesus Christ (Yahshua) as in Galations 3:13-16, which have also turned away from all sin (1John 3:4) and so you receive the promise also by faith. There are also conditional blessings.
Obedience Blessings, another iteration of Abrahamic Blessing (Deuteronomy 28)
BY THE BLOOD OF YAHSHUA
COMES ALL THE BLESSINGS OF ABRAHAM UPON US.  (GALATIANS 3:13-16)
"AND YOU ARE THE HEAD AND NOT THE TAIL.
YOU ARE ABOVE ONLY AND NOT BENEATH.
YOU LEND AND DO NOT BORROW.
YOU WALK IN HEALTH AND NOT IN SICKNESS.
YOU WALK  IN PROSPERITY AND NOT IN POVERTY."